Last updated: 2022, June 12
Crop management - how to prepare agribusiness for global climate change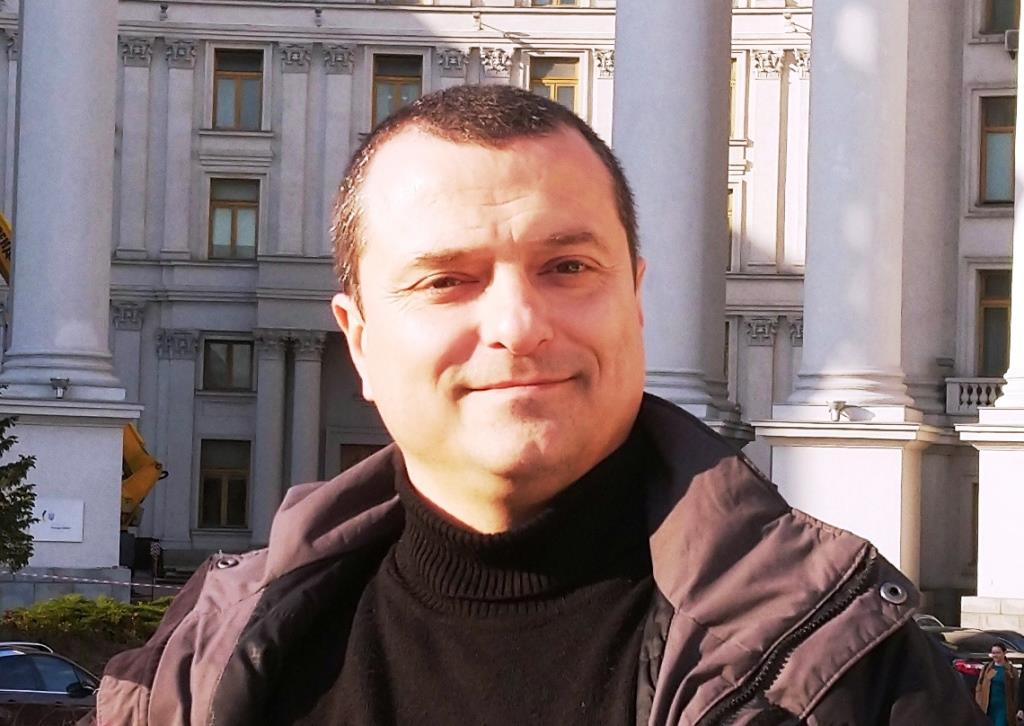 Dr. Oleksii Orlov, PhD in Agriculture
The need for proper management of agricultural business in the context of climate change is evidenced by a survey of farmers conducted in the British Commonwealth of Nations. So in 2010, when the problem of global climate change was not as acute as it is now, already then 87% of farmers said that rising prices for resources for conducting agribusiness change the way they use these resources, and every fourth farmer said that climate change is already has an impact on their business. In main agricultural producers countries, for example in Ukraine, such changes are already taking place, what can be done to increase profits in such conditions, we will consider in this article.

In 2017, an absolute record was set for the maximum daily temperature during the flowering and pollination of corn, which led to drought, non-viability of pollen and a decrease in corn productivity. At the photo - on the cobs of corn there is no part of the grain. This corn fell into a drought and was exposed to high temperatures during the flowering period (photo ©
Dr. Oleksii Orlov
, August 15, 2017, Kharkov region, Ukraine). This leads to the fact that farmers increase investment in irrigation or switch to more drought tolerant crops - sunflower, safflower, chickpeas, sorghum
BE READY FOR CLIMATE CHANGE!
Ensuring the long-term viability of your business makes sense, both for you and for yours future generations. Maintaining good agribusiness and farm management practices will be key to ensuring that the agricultural business is prepared for the unpredictable effects of climate change.
Farmers who are prepared for climate change will be the most resilient and flexible in order to make the best use of these changes to generate financial gains and increase of capital.
1. Productivity and yields:
There is potential for significantly higher yields due to increased atmospheric CO2 and higher temperatures, but this will require more efficient use of nitrogen moisture from the soil. Some scientific studies have shown that some varieties of winter wheat can increase yields by 12-28% in warmer climates. And other crops yields, such as corn, soybeans and sugar beets, already seem to take advantage of climate change

To increase yields in arid climates, modern F1 hybrids and varieties with improved genetics should be used - resistant to high temperatures and drought and capable of producing high yields in changing conditions

Longer growing seasons, along with earlier spring growth and ripening, may allow for earlier harvesting

Long periods of drought and temperatures of more than 25 °C (for example, an absolute record in 2017) can make yield levels less predictable and make mandatory use of irrigation necessary

Although frosts will become less common, early spring and late autumn frosts can cause more damage to yield due to the lack of acclimatization of field crops plants

Lower soil moisture can reduce the quality of seedlings and impair the development of some crops, especially late harvesting and winter crops
2. Field crops:
N

orthern and western regions may become more suitable for some crops, but it will also depend on regional soil types and topography

Irrigation will become necessary in the southern regions and significantly increase productivity

New crops, varieties and hybrids (for food, farm animals and non-food needs) may be a good option for increasing yields
3. Pests and diseases:
P

opulations of pests and pathogens can survive better in warmer climates, in warmer winters with fewer frost times, this conditions will increases their spread, increasing the risks of plant damage and lower yields

Plants that are already prone to stress from drought or heavy rain may be more susceptible to diseases damage

Warmer and earlier springs can contribute to an earlier active development of pests populations and damage of crops. The same goes for the fall season. Pest populations may als

o increase; for example if a temperature increase of only 2 °C can increase the number of aphid generations from 18 to 23 pcs. in one year

Long dry periods in the summer make it difficult to control pests and limit the effectiveness of pesticides, but these same phenomena also reduce the pressure of diseases on field crops

Regional differences in abundance of pests populations, type of pests and spectrum of diseases can make them difficult to control

With climate change, the risks of extreme weather events (drought, strong winds, hail, extreme temperatures) increase.

Plants damaged by heavy rain, hail or drought are more prone to the development of diseases and death, like this corn in the Cherkassy region, Ukraine.

In this case, you need to immediately spray of fungicide to reduce yield losses (
photo ©
Dr. Oleksii Orlov
,
July 14, 2017)
4. Extreme events:
Most actions of climate change show that all regions of Planet are already now to face more extreme weather events that have a direct impact on the agricultural business as a whole, individual agricultural enterprises and crops production

Extreme events in other parts of the World (for example, drought) will also have direct consequences for all farmers, as they cause market volatility and unpredictable demand peaks, such as price increases in 2008 when the price of wheat reached $ 280 / ton

Flooding and erosion of the soil from extreme precipitation and long periods of saturation with moisture - it is possible to lose valuable topsoil and contaminate water sources and water bodies

Appropriate strategies for crops cultivation and tillage, improved drainage and planting of buffer strips and forest belts will help solve this problem

Flooding has significant financial implications for the farming business. To solve this problem, the creation of modern drainage systems, drainage ditches, grass buffers, ponds or wetlands for a slow flow of water, increasing penetration into the soil and reducing flooding, and the cultivation of forests and energy crops that are resistant to flooding of species can help

Maintaining the quality and structure of soils and increasing the content of organic substances will contribute to water retention and improved drainage

Collecting and harvesting of excess rainwater for use during periods of drought

At the photo - flooding of sunflower field. Floods have significant financial implications for the farming. To solve this problem, the creation of modern drainage systems, drainage ditches, grass buffers, ponds or wetlands for a slow flow of water can help, increase penetration into the soil by CTF and reduce flooding, growing forests and energy crops that are resistant to flooding of species (
photo ©

Dr. Oleksii Orlov)
5. Changes in seasonality:
Be prepared to change the traditional dates of tillage, the timing of agricultural operations and harvesting, if necessary

Consider the possibility of changing the timing of financing and the supply of resources, discuss this with your suppliers and agribusiness consultants about possible changes in time and technology and, if necessary, agree on an action plan or business plan for these changes

Consider how best to use longer growing seasons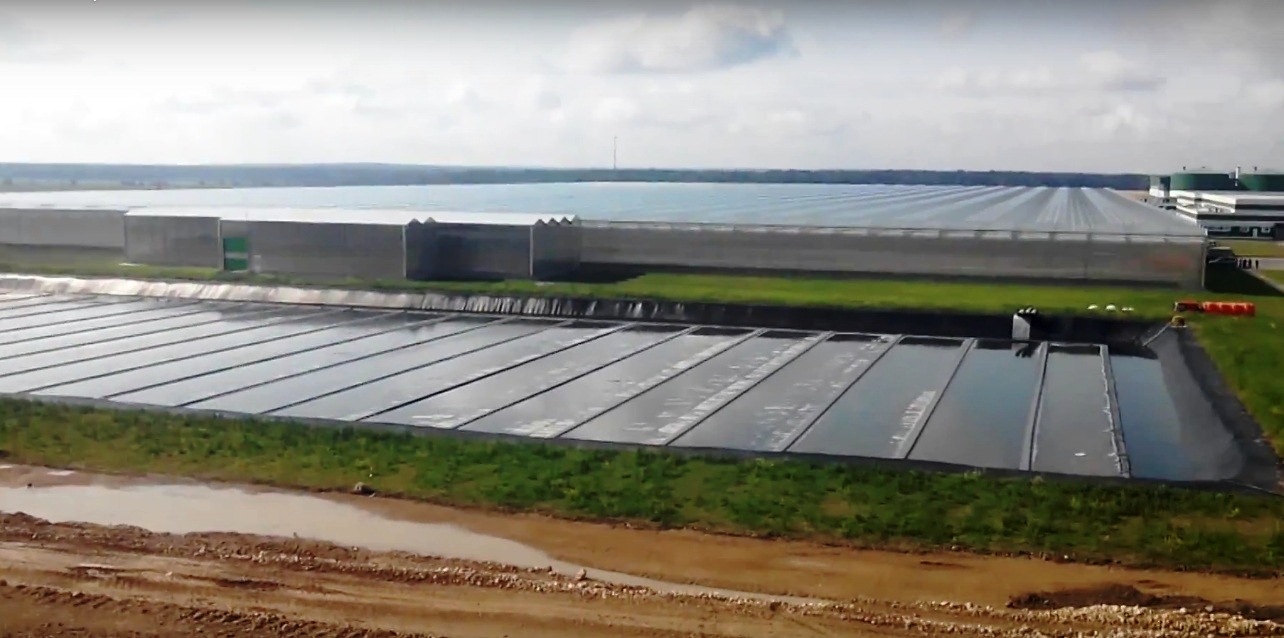 Tanks for collecting rainwater in one of the most modern greenhouse complexes in Europe - water is collected both from the area occupied by greenhouses and from additional areas. With proper collection and storage, rainwater is an economical and constant source of quality water. Compared to tap water that is stored in ponds and treated with chemicals, rainwater is considered a safer, better, and more cost-effective alternative to agriculture
Necessary actions that will be ready for climate change:
D

iversify crop growing technologies to counter unpredictable weather conditions and climate change

Explore the possibility of using drought-resistant and heat-resistant hybrids and varieties of crops

Think over the load on local sources of fresh water and, if necessary, consider improving the efficiency of your irrigation systems, installing a rainwater harvesting systems, or building a drip irrigation system and an on-farm reservoir

Improve drainage, humus content, soil structure and take those actions that will avoid soil erosion

Consider improving existing forest belts or creating new ones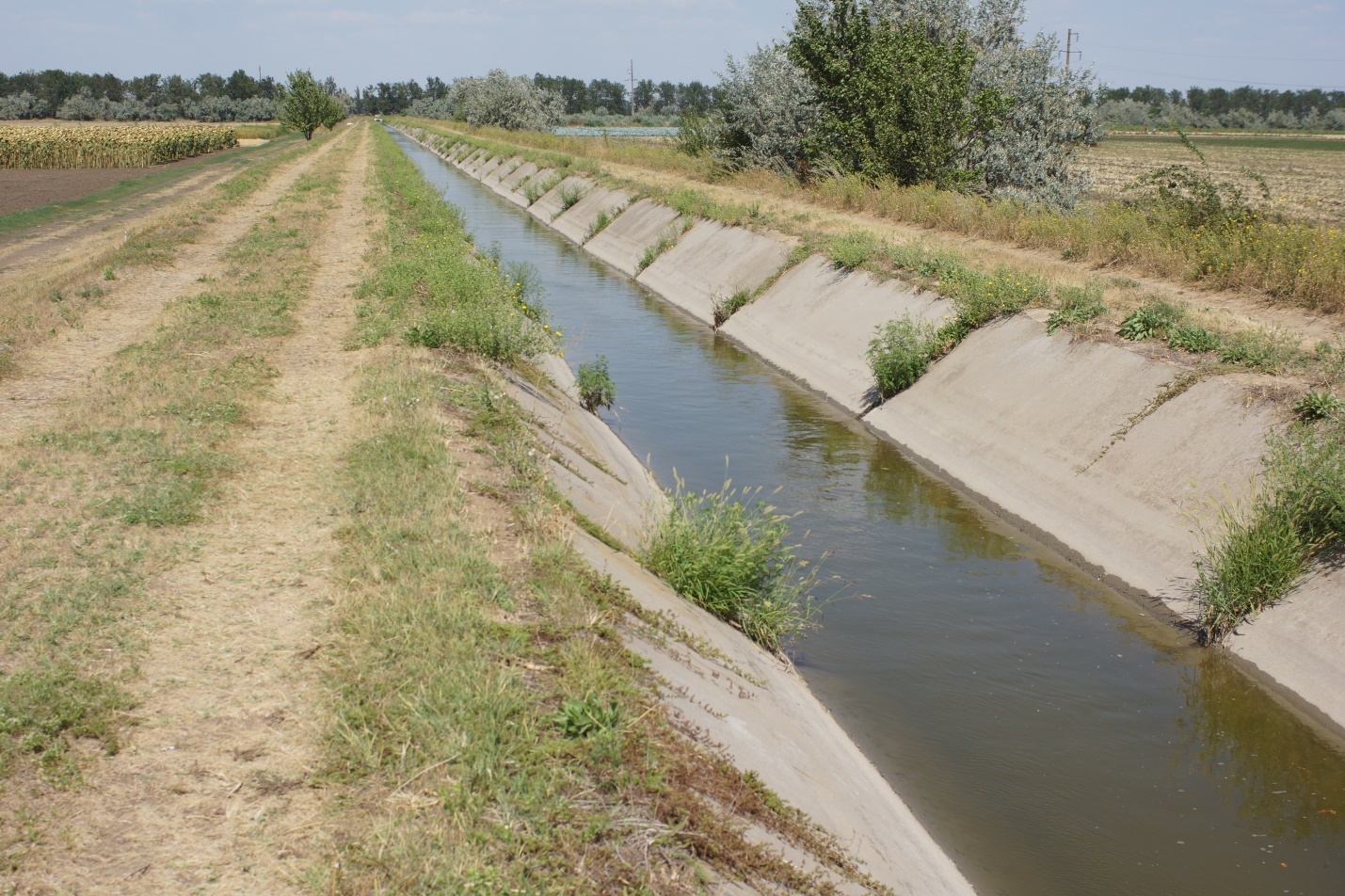 When water is supplied to the fields through open channels, a large amount of water is lost due to evaporation and infiltration into the ground. Under the conditions of climate change, water will rise in price, and the transportation of water and irrigation in an open way is already becoming a very expensive and inadmissible pleasure (
photo ©

Dr. Oleksii Orlov)
AGRICULTURAL MARKETS - FALLS AND NEW OPPORTUNITIES!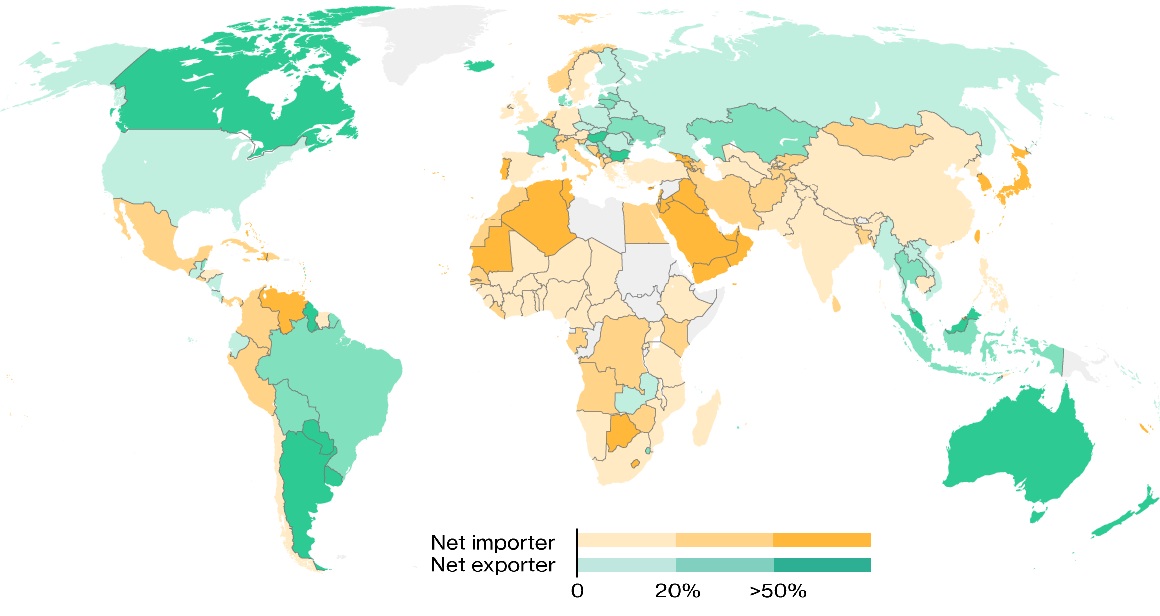 Forecast - the dependence of certain regions of the world on food exports and imports due to climate change (Source: UN's Food & Agriculture Organization Global Perspectives Studies)
Prices may rise due to a potential global demand of wheat and other grains due to changing weather conditions, and current wheat, corn and rice producing areas may become less suitable for growing its. The same goes for other crops and plants

Local markets of individual field crops can grow and become more significant due to the growth of global markets, the instability of global supplies and amid growing global concern about food security in the World

Consumers' growing interest in the origin of food and how many "food miles" this food before that they buy and consume, and how the food is produced and how "healthy" this food, can also offer for farmers the new opportunities to organize the production process, successfully enter the markets and make profitable sales of their food products

Biofuel for automobile transport is a promising area for agribusiness. Now Brazil and the United States lead the industrial production of ethanol fuel, together occupying 83.4% (2014) of world production. In 2014, Brazil produced 23.4 billion liters. ethanol, which is 25.2% of the total ethanol production in the world used as fuel. In the UK, it is planned to get 10% of biofuels from the total volume of automobile fuel by 2020. Biofuels can be produced in the form of bioethanol or biodiesel, although the bioethanol market currently looks stronger. The development of bioenergy in Ukraine (biofuels and biomass) creates new jobs and a new market for field crops, as well as reducing greenhouse gas emissions associated with the use of fossil fuels

Grain and oilseed farmers have good opportunities to produce the necessary raw materials to supply new markets for various types of biofuels and to obtain competitive prices for their crops, as well as use for the production from poorer lands

The use of electricity received at farmer's solar stations to charge electric cars already reduces greenhouse gas emissions and has excellent prospects

There may be an increase in demand for the production of field crops due to an increase in the production of new plastics, oils and building materials, which could replace products based on oil and fossil raw materials

Alternative crops and plant species to new markets can open up new opportunities, help maintain business efficiency and help diversify the agricultural business
Necessary actions:
Explore the possibilities of business diversification in the direction of the possibility of producing energy crops and get expert advice for the feasibility of the special business improvement projects

If you plan to grow crops for new climatic conditions and markets or grow efficiency of production, conduct an appropriate audit to select the best technology and study the markets and logistics

Some technologies and crops will have benefits in drought conditions - sunflower field by No-Till in the Nikolaev region, Ukraine. Resource-saving and soil-protecting technologies in conditions of climate change will have advantages. As in this case, when a sunflower seeds yield was more than 3.5 t per ha / 3123 pounds per acre (
photo ©
Dr. Oleksii Orlov
, 05.31.2017)
CONSERVATION OF SOILS AND MOISTURE, REDUCED ENVIRONMENTAL IMPACT FOR FOOD PRODUCTION:
I

t is necessary to preserve the environment and nature, while improving the profitability of the business and increasing food production

Create and maintain forest belts, hedges, uncultivated land and permanent pastures that naturally absorb CO2

Improve nutrient management and apply a good crop fertilizer system to reduce leaching and flushing of chemicals into water bodies. For example, apply fertilizer on wet days to increase their absorption by plants

Consider the benefits of growing different crops — spring and winter crops — to reduce production costs, reduce the number of operations needed, reduce the risks of soil erosion in winter, and potentially increase natural biodiversity on farm territory

Consider using cover crops and Strip-Till to improve soil structure, such as mixtures of red clover, vetch and rye

P

reserve and increase the humus content in the soil by applying organic fertilizers and preserving plant debris in the field

Try to reduce the intensity and frequency of processing your soils - for example, it may be advisable to change the tillage methods to Strip-Till or No-Till and switch to CTF

R

educe soil erosion - avoid treating moist / saturated soil with soil and use buffer strips and forest belts to protect from winds

Conduct a special audit to take stock of all your activities in the field of environmental and soils protection and business development prospects in the new environments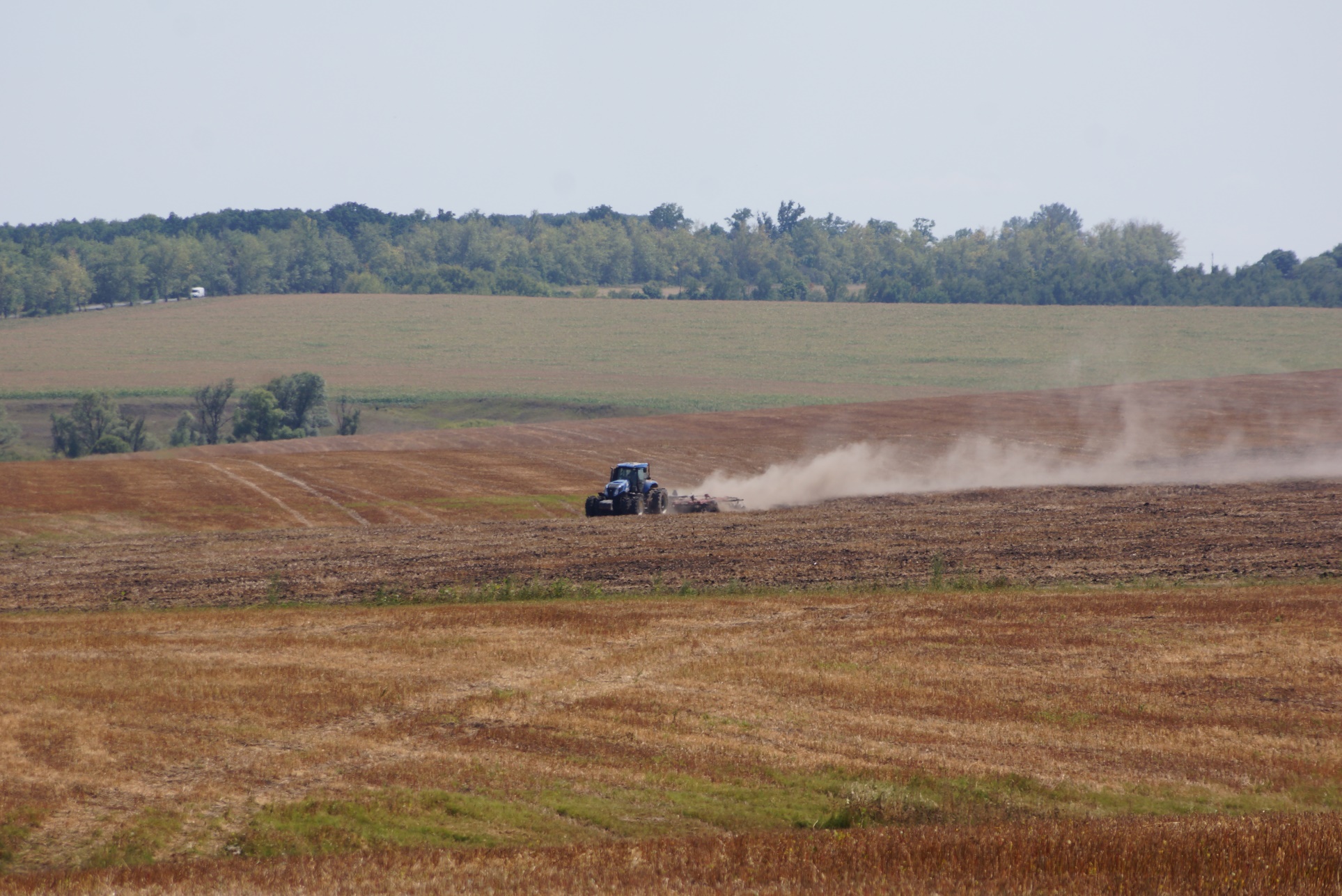 In conditions of climate change, those farmers will have benefits who will: retain moisture in the soil - because moisture it is a money; reduce resource consumption; protect their fields from erosion and increase soil fertility using No-Till and cover crops (Strip -Till). At the photo - one of the types of soil fertility loss - the drift of the soil by the wind in time of disc tillage in drought and windy time. Soil preparation is best done when the soil is wet (
photo ©

Dr. Oleksii Orlov)
Contact us for consulting, creation, development and support of projects and creation of a business turnkey
© Agricultural Consulting Service. Technical audit of agribusiness. Agricultural business projects and agricultural companies turnkey. Consulting services for agriculture, aquaculture, natural resources, environment, safe energy in industry and home construction. Increasing the profitability of business, obtaining additional profits