Home Contact Us About Us Presentation Success Stories - Our Completed Projects
Geography of our projects Our competitive advantages Trainings for Agronomists
Technical audit and Due Diligence of farms, companies and business
Projects Management - business projects and creation of modern farms turnkey
Why investments in agricultural business is profitable Policy of Confidentiality
Last updated: 2022, June 12
Secrets of sunflower growing. Modern sunflower vsrieties from Strube
This article created for

Strube

, a leading breeder in the World

Photo source: Strube
Strube Company not only offers the best and most high yielding wheat and sugar beet varieties, but also launches new sunflower varieties on the market
Modern sunflower varieties from Strube. The right choice of sunflower varieties for different agro-climatic zones
Strube company offers for different climatic conditions, modern sunflower varieties which show higher yields and profitability than varieties of well-known competitors.
Strube Company offers a new system of geographic regionalization of sunflower hybrids. As not only sunflower variety's yield, but also the profit from variety that growing depends from the proper choosing of the variety for local conditions!

Figure source: Strube
Zoning map of Strube sunflower varieties, 2019. This figure shows which varieties are best for growing in a particular agro-climatic zone of Ukraine. Abbreviations: Lino - linoleic, OrF - resistant to broomrape of race F (Orobanche cumana), SU - sulfonyl-resistant (herbicide Express resistant), IMI - herbicide-resistant Clearfield® technology (Euro Lightning herbicide)
Best agroclimatic zones of Ukraine for growing of Strube sunflower varieties
Type of variety

Name of variety

Agroclimatic zone

Description

Zone 1

Zone 2

Zone 3

Tolerance to herbicides

Oil type

Or (tolerance to Orobanche cumana)

DM (tolerance to Plasmopara halstedii)

Maturity group

Classical

Basco

Lino

F/Or6

P2

2

Orfeo

Lino

F/Or6

P1

4

Sergio

Lino

F/Or6

P2

5

Sulfo - sulfonyl-herbicide resistant (herbicide Express resistant)

Celso

SU

Lino

F/Or6

P1

3

Fausto

SU

Lino

E/Or5

P1

4

EXS 5407

SU

Lino

E/Or5

6

Tango

SU

Lino

E/Or5

P2

7

Mero

SU

Lino

F/Or6

P2

7

IMI - herbicide-resistant Clearfield® technology (Euro Lightning herbicide resistant)

Fabulo

IMI +

Lino

E/Or5

P5

4

Imidor

IMI

Lino

E/Or5

P4

5

HО+IMI - high oleic + IMI - herbicide-resistant Clearfield® technology (Euro Lightning herbicide resistant)

EXS 3526

IMI +

HO

E/Or5

P2

6

best results of growing in agroclimatic zone

average results of growing in agroclimatic zone

Growing is possible but only in case of careful care and agronomy cosulting service
Source

:

Strube

, 2019
IMI

(

sunflower variety that

herbicide-resistant Clearfield® technology (Euro Lightning herbicide resistant)
IMI+

(

sunflower variety that

herbicide-resistant Clearfield®

Plus

technology

)
SU (

sunflower variety that

sulfonyl-herbicide resistant (herbicide Express resistant)
HO

(

high oleic

)
Lino

(

lino

)
Or

(

tolerance to Orobanche cumana

Wallr.

)
F
,
E
(
Orobanche cumana
Wallr.

race n
a
me
)
DM

(

tolerance to

Plasmopara halstedii (Farl.) Berl. et de Toni.

)
P1, P2 ...

(Plasmopara halstedii (Farl.) Berl. et de Toni.

race n

ame
)
Features of choosing of sunflower varieties. Sowing several varieties of Strube!
When choosing varieties of sunflower, the following important factors should be considered:
geographical location and local climatic conditions, agroclimatic zoning of sunflower varieties

high oil content for linoleic varieties and oleic acid content for high oleic

ype of resistance of the variety to herbicides (sulfo, IMI or IMI +, classic)

the best sunflower yields for your region from market leaders, Strube data, and own test results

resistance to broomrape and those diseases that are common at your fields

it should be used in production not one, but 3-5 different varieties from Strube, in which case stable results will be provided, since depending on a particular year, one or another sunflower varieties will be have higher yields

you should regularly test new sunflower varieties , because the breeding does not stand still, and Strube breeders are constantly creating new, more productive and profitable varieties - and maybe they will suit your conditions!
High-quality pollination is an important factor in high productivity for modern sunflower varieties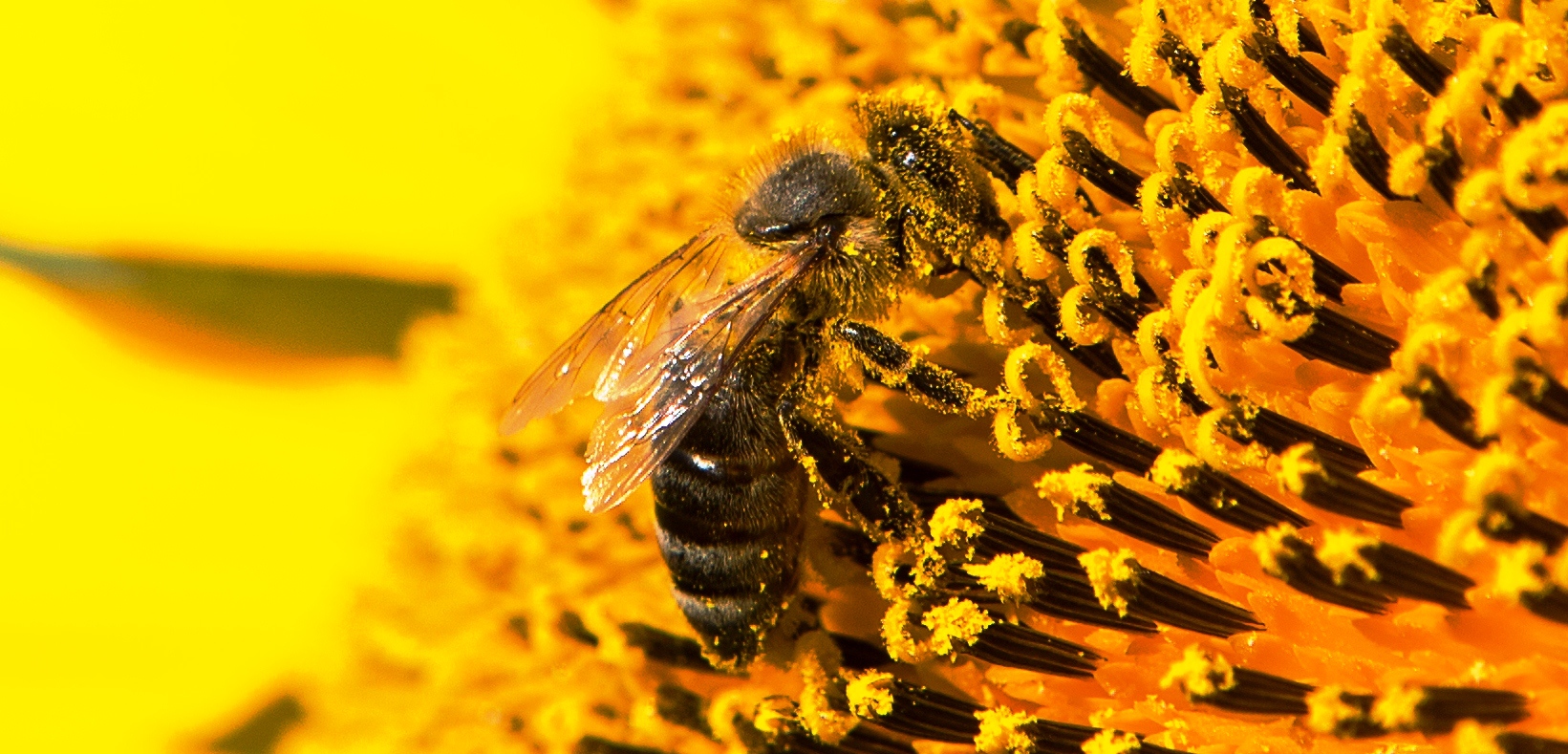 Photo source: Strube
Sunflower it ia a plant that polinated by bees. If bees are absent that good yield will absent too. And high-quality pollination is very important for for high yield of modern sunflower varieties. But in case of good polination will be absence of empty seeds. In addition, bees are not only a high increase in the yield of sunflower, but also given an additional profit from the sale of honey
One of the factors that causes sunflower seeds emptiness is poor pollination by bees. Often, highly productive varieties form empty seeds and give a low yield due to the absence of bees at the time of flowering of the sunflower heads.
Sunflower is a plant that is pollinated by insects, including bees. Sunflower is an important honey plant.
For obtain high sunflower yields, pollination by bees is recommended (at least 2 bee colonies per hectare).
Bees significantly increasing the sunflower yield.
It is also unacceptable to use insecticides (various insecticides) on blooming sunflower, which leads to the death of bees and / or their larvae. Of the available insecticides, Biscaya (Bayer) and Mospilan (Nippon Soda) do the least harm, which should be used only at night, and bees need to be closed (isolated) for prevention for 2 days.
For

obtaining of high yield of oil per hectare, sunflower plants must remain green and healthy for as long as possible!
If the sunflower plants remain green and healthy until fully ripe, the greater will be the yield and oil content in the seeds.
Thus, for obtain a high yield of oil per hectare, sunflower plants must be healthy and have good resistance to a complex of diseases and pests.
Not only good monitoring of the state of crop is necessary, but also need timely and correctly planned treatments with fungicides and micronutrient fertilizers, which contribute to the healthy development of plants without stress.
Sowing disease-resistant varieties, contributes to a significant reduction in investment in the purchase of fungicides, as can be seen in the following photo.

Resistance to diseases is an important factor in reducing costs and making extra profit when growing sunflower. At the photo: on the right - a sunflower variety from Strube that resistant to Alternaria; on the left is an unstable variety (control). The photo took place on the same field, 28 of August 2019, the scientific field Strube, Hungary. Alternaria is a very harmful and recently very widespread disease, not only in Europe, but also in Ukraine (in Poltava, Khmelnitsky, Chernihiv and Kiev, and other regions). Photo ©
Dr. Oleksii Orlov
High-quality sowing and even

placement

of seeds in a row
Usually, sunflower sowing is carried out in a point manner with 70 cm

destination

between rows with precision seeders. With the point method of sowing seeds in a row are placed evenly, at regular intervals according to a given sowing rate. Uniform placement of seeds across the field is a very important condition for obtaining high yields of sunflower. If plants are placed unevenly, then sunflower plants begin to compete with each other for nutrients and light, which leads to significant lower yields.

The effect of uniform seeds placement in a row to the sunflower yield. If the seeds in the row are placed unevenly, a significant decrease in yield is observed (Fig. ©
Dr. Oleksii Orlov
)
The distance between plants in the row should be 28-52 cm (with a sowing rate of 35-45 thousand seeds/ha), 19-36 cm (with a sowing rate of 50-65 thousand seeds/ha), 11-26 cm (with a seeding norm of 70-110 thousand seeds/ha). When sowing sunflower seeds by the point method, it is easy to achieve the optimal area of ​​plant nutrition. With an optimal feeding area, standing density is obtained at which the maximum yield is formed.
When calculating the density of plant standing, it is necessary to proceed, first of all, from the level of moisture supply in local conditions. With a lack of moisture in the soil, the standing density is reduced, and with a sufficient level of moisture, seed treatment with micronutrient fertilizers and growth stimulants, as well as with high doses of fertilizers, are increased.
Sunflower is the most sensitive crop for not right rates of sowing and for density of plants in field. With dense sowing of sunflover, losses can be 70-80%!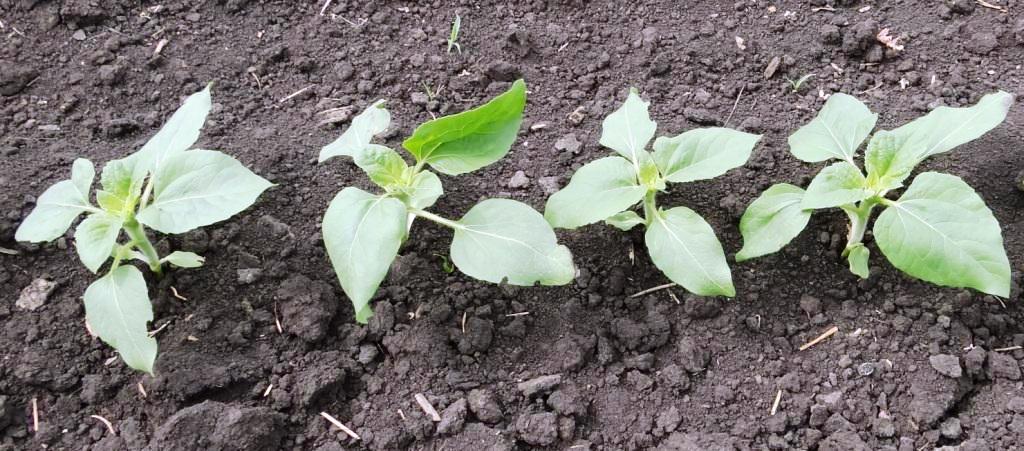 It is important to carry out the sowing of sunflower with precision seeders, since the uniform placement of seeds in the row depends on this. If the seeds are place unevenly, a 10-50% decrease in sunflower yield can be observed due to the fact that plants compete with each other for light, water and nutrients, and weeds occupy the empty spaces between them. At the photo - sowing is done correctly, the distance between plants is optimal, the yield will be high (photo ©
Dr. Oleksii Orlov
)
Some people sow sunflower with the help of pneumatic sowing planters designed for sowing grain crops without any conversion (to achieve the desired row spacing, they simply turn off or remove the coulters). In this case, the placement of seeds in the row is not controlled, and yield reduction can be up to 10-50%, although this method provides a higher sowing speed and a shorter time for sowing. But it is not a way that it is possible sowing more and in time but not obtain a good yield and not obtain a profit. The following photo shows the incorrect placement of plants in a row when sowing seeds with a big pneumatic planter, leading to a decrease in yield.

At

the photo - sunflower sowing is performed incorrectly, the yield will be significantly reduced (photo © Dr. Oleksii Orlov

)

Although

big planter

for grain crops can be used for sowing

of

sunflower seeds, this is not recommended, since with an uneven

placement

of seeds in a row, yield losses can reach 10-50%. The advantage of this sowing method is a higher sowing rate. But with this method of sowing sunflower, you can sow a lot and quickly, but you can't get profit (photo © Dr. Oleksii Orlov

)
Focus on high oleic sunflower from Strube
Growing high oleic sunflower is a more profitable business than growing ordinary sunflower. The purchase price for high oleic sunflower is much higher. Therefore, to grow high oleic sunflower is more profitable than ordinary. In the global market, the demand for high oleic oil is higher. This is due to the fact that high oleic sunflower oil is more stable when heated, and is much healthier. The excellent prospects of high oleic sunflower are evidenced by the fact that most sunflower fields in Europe (particularly in France) are high oleic sunflower.
Strube is introduces modern competitive high oleic varieties of sunflower to the market.
Features of growing Strube sunflower in the Forest zone (Polesie)
If you grow sunflower in the Forest zone or Western Ukraine or in Transcarpathia, then in most cases this is sowing in fields with acidic soils.
It is necessary to plan correctly the use of fertilizers for sunflower on acidic soils!
On acidic soils, with decreasing pH values ​​(less than 5.7), the availability of key nutrients either decreases very much or increases to such a level that mineral nutrients become toxic to sunflower plants.
Most often present the toxicity is aluminum contained in soils. On neutral soils, a high concentration of aluminum or manganese will not be toxic to plants. But a high concentration of aluminum (AlKCl) or manganese will be toxic and will lead to a sharp decrease in the yield of sunflower on acidic soils.
A low pH can also lead to the fact that not only aluminum and manganese, but also copper, zinc and boron can become toxic to plants. A high level of concentration of these ions in soils may cause the appearance of symptoms of deficiency of various nutrients in sunflower plants. A high concentration of soluble aluminum and / or manganese in soils can be an obstacle to the absorption, transport and use of certain nutrients by the plant (phosphorus, calcium, magnesium, molybdenum and potassium).
This leads to the fact that plants cannot absorb these substances and their deficiency arises, although under different conditions, this amount of nutrients would be quite enough for the normal development of sunflower plants.
One of the significant factors that limiting sunflower yield may also be phosphorus deficiency in acidic soils, since phosphorus under such conditions can bind to aluminium and iron in chemical compounds insoluble and inaccessible to sunflower plants.
Thus, on acidic soils, a whole complex of factors acts, the balance of nutrients and their availability is disrupted, which leads to disruption of the basic physiological processes in sunflower plants, and this, in turn, causes a decrease in yield or death of crop. Visually, on sunflower plants, this can manifest itself in various phases of their development and in the form of a wide variety of symptoms and their combinations.
Therefore, on acidic soils, the fertilizer system should be correctly calculated and soil liming should be used for neutralization all the above adverse factors!

Good sunflower on sandy and slightly acidic soils in the Zhytomyr region. The correct and timely system for applying lime and fertilizers leads to success in growing sunflower on such soils (photo ©
Dr. Oleksii Orlov
)
In addition, in the case of application of herbicides on acidic soils, the effect of herbicides and their level of toxicity and the degree of aftereffect for plants change too. Therefore, symptoms associated with the action of herbicides to sunflower plants can also be added here. At low soil pH: herbicides from the imidazolinone family (imi herbicides) are slowly destroyed in acidic soils.
Thus, based on the data of numerous studies, the agronomic optimum level of soil pH for sunflower production can be at the level of 5.0 and higher.
At pH levels from 4.7 to 5.3, yield losses of 10-30% are possible.
To increase the yield of sunflower on such acid soils, it is advisable to carry out autumn liming under the main tillage. But given the fact that sunflower is able to form a high yield on acidic soils, it is a very promising crop for rotation with winter wheat in the fields, where the changing of soil acidity through the use of lime is not economically feasible.
Comparing the critical soil pH for some other crops in crop rotation, such as grain sorghum (pH 5.4), rapeseed (pH 5.8) and soybean (pH 5.5 to 7.0), sunflower is the best choice in the presence of acidic soils for use in crop rotation with winter wheat, since the critical pH for it is less than that of the above crops.

If you are seriously wish to obtaine sucsess in sunflower growing, then you need a good high-clearance (clearance of at least 1.8 m) sprayer! It is needed to carry out the necessary spraying of sunflower in the later stages of plants development (protection against diseases, pests, foliar fertilizing with fertilizers, growth stimulants, microelements). Such a sprayer should not damage sunflower plants. In the photo: Challenger Spra Coupe SC 7000 sprayer (photo© Challenger-ag.com)
Features of growing varieties of Strube sunflower in the south drought regions
The technology of growing sunflower in the south of Ukraine, in the southern regions, is no different from the technology of conventional cultivation of sunflower, but there are also specifics that follow from the differences between a dry hot climate and normal and which must be consider.
Sunflower growing in the southern regions, including very arid, has its own characteristics and is profitable, since sunflower is one of the most drought-resistant crops:
the right choosing of varieties - you need to select and grow those varieties Strube that will give maximum effect in the South

proper soil preparation, aimed at maximum moisture conservation in the soil

lack of time gaps between technological operations

the shortest possible dates of not only sowing, but also of all technological operations

give fertilizers only for the planned yield, taking into account moisture availability

the right selection of varieties for resistance to broomrape (

Orobanche cumana)

sowing only after cereals in crop rotation

sowing at the earliest optimum time

maximum yields in the South, sunflower gives by drip irrigation (up to 5-6 t/ a)

it is undesirable to use IMI herbicides (Eurolighting, Clearfield and others), since these herbicides do not decompose completely in arid conditions and lead to severe restrictions on crop rotation. After it using may appiar resistant weeds (for example ragweed). But in the case of the presence of a large number of weeds and with proper observance of crop rotation and tillage, this is possible

many farmers in the USA and Canada use Strip-Till technology in combination with CTF, which can increase profits by 20-30% when growing sunflower in drought conditions

take into account that the range of weeds in the southern regions is complemented by a very harmful weed for sunflower - ragweed (Ambrosia artemisiifolia L.), and effective measures to control this weed should be provided

At the photo: ragweed that not resistant to herbicides (Ambrosia artemisifolia L.) in the phase of 2 real leaves (circled) in sunflower field. But difficulty is that in many cases ragweed may be already resistant to herbicides and need special test before application of herbicides (photo ©
Dr. Oleksii Orlov
). There are features of treatments against ragweed in sunflower that SU resistant (
t
ribenuron methyl)
. Against ragweed (Ambrosia artemisifolia L.), you need to use Express® herbicide, no later than the phase of 2 true leaves in the ragweed. In this case, the weed dies
Contact Strube for purchase

of

high-yield and profitable

sunflower

seeds!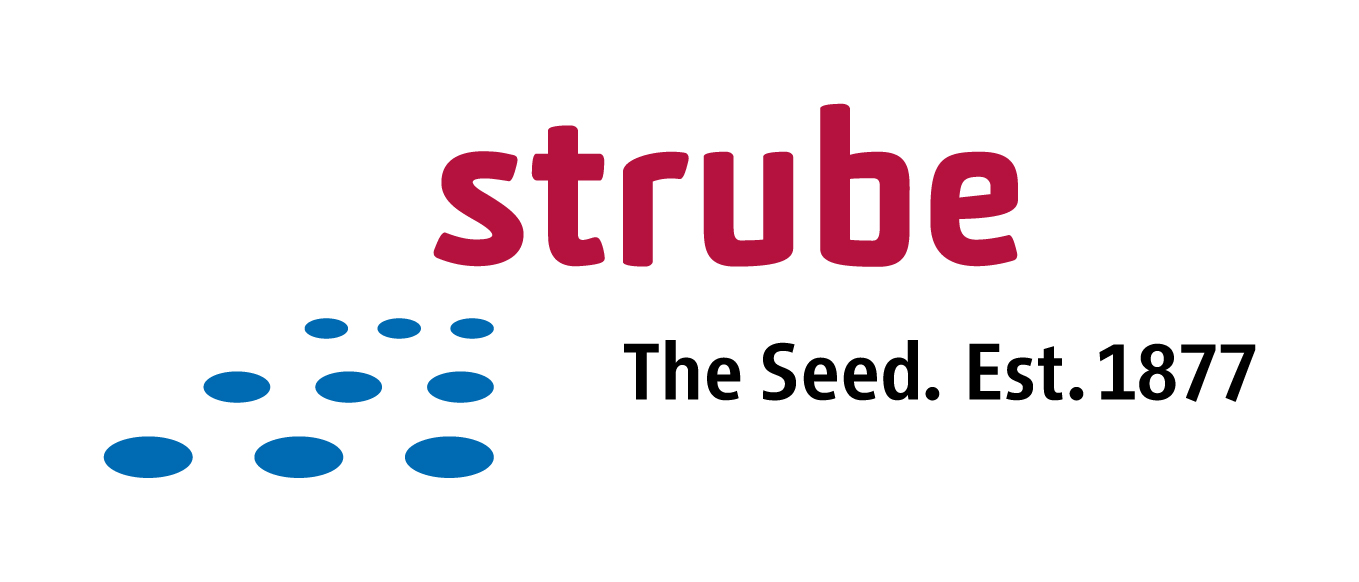 Many thanks for the help in preparing the article: Strube GmBH, Dr. Lutz Gerrmann, Dr. Vasyl Gech
Contacts of Strube company in Ukraine:
TOV Strube Ukraine GmbH
Dr. Lutz Herrmann
Str. Yuria Shumskogo, 1, Of. 115
2098 Kyiv, Ukraine
Tel. +38 044 536 16 69
Fax. +38 044 536 16 69
© Agricultural Consulting Service. Technical audit of agribusiness. Agricultural business projects and agricultural companies turnkey. Consulting services for agriculture, aquaculture, natural resources, environment, safe energy in industry and home construction. Increasing the profitability of business, obtaining additional profits